Joined

Dec 5, 2012
Messages

26
Our chinchilla recently went through a medical issue back in Jan-Feb 2020 (I noted the thread here for the history:
Chinchilla bald patch above eye?
). The vet basically found an abcess above her right eye, and we had to drain it and treat it with a topical antibiotic for a while.
Since then till now she seems to be rebounding back ever so slowly. Shes drinking water, eating hay, eating her pellets and taking the occasional treat. I have been spoiling her by giving her more frequent baths, nearly every other day or daily recently.
But recently while handling her, we noticed that with her "bad eye", she opened it super duper wide. So wide to the point that we could see the white rim around her eye and it almost looked like her eye was slowly popping out!
We put her back thinking maybe she was just freaked out and checked on her again later that day. She did it a total of two times that day, and since then we have been trying to just let her "rest" and come out for play time on her own (open her cage door).
I dont have any pictures of the particular incident, but when I was going through my photos I found even way back in Feb when she was being treated her eye seemed to bulge out a bit?
In the photo below its the eye on the left - These photos were taken back in early Feb.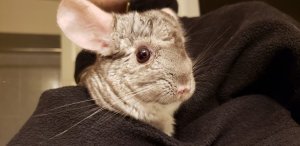 You will notice that she has a small cut above her eye, as we were dealing with the abcess and had to drain it a few times to get it to fully heal.
Today, her fur has completely grown back as far as we can tell. There are no lumps/bumps around her eye. We quite thoroughly felt all around - No other lumps or bumps that we can find. She didnt whince in pain, or yelp or anything. Outside of this her behaviour seems normal. In fact shes even been slowly putting back weight up to 560 grams now. So we took all this as positive indicators.
Though we did notice that her "bad eye" did seem to bulge out more from her "good eye" in the sense that when we were handling her, and moving around her eye and her eye was closed we were able to feel that one eye seemed to be more further out?
From searching around, I have read of the possiblities of a tumor, cyst or even malocclusion may cause a chinchilla eye to protrude/bulge but I couldnt find any photos.
Our vet is currently closed due to the covid-19 pandemic but we do have a telephone consultation set up for this coming Monday and we could possibly bring our chin in for a check up.
But I was wondering, given the fact that her eye has been protruding/bulging from all the way back in Jan/Feb 2020 - Could this be something serious like a tumor/cyst or malocclusion ?
The only source of comfort I have right now is the fact that since her eye has been protruding/bulging since back in Jan till now - I am assuming if it WAS something serious she would be going downhill or have gone downhill already?
Im hoping someone can tell me that her eye looks some what normal for a chin. Shes our first chin and we cant really compare to anyone else
Before her whole eye thing we honestly never truely scrutnized her eye so thoroughly - So we arent sure if this was something that was always pre existing the bulging or protruding.
Last edited: